Wholesale Kidswear Supplies
If your business is looking for wholesale kids boutique clothing and accessories, we have a range of fashion items and hair accessories that sell to many different businesses in search of children's clothing store supplies.  Your business may be online - either stand alone, or through marketplaces such as amazon, ebay or etsy -  or you may have a bricks and mortar retail store or market stall, and be in search of children's boutique suppliers to help fill your shop.     
At Inca UK, we have been children's wear wholesalers in the UK for over 40 years.  Our range predominantly consists of hair accessories, but we do also supply wholesale fashion accessories for kids boutique stores too.  Take a look at our range recommendations below for wholesale kids accessories to complement any range of trendy kids wholesale clothing.
Our minimum order is just £25 meaning you don't have to order large quantities, and we offer free UK delivery on orders over £150.  All of our stock is held in our UK warehouse and if you place your order before midday, we aim to have your stock delivered on the next working day (some restrictions may apply).  This is a great way to manage your stock levels effectively and never be out of stock on those best selling lines.  
Kids Clothing Suppliers - Hair Accessories
Our range of kids hair accessories work brilliantly well alongside kids clothing stock.  Alicebands, scrunchies and decorative hair clips are great for gifts, or as finishing touches to an outfit in children's boutique stores.  Our wholesale kids supplies also work well for online businesses as there are rarely any returns due to there being no sizing issues like there might be with clothing, plus they are lightweight and easy to post.
In terms of products, unicorns and rainbows are always popular, as are any hair elastics with a novelty attachment.  Our dinosaur hair clips have also been one of our best selling wholesale kidswear lines this year too.  With such a wide range of products available you can order everything that you need from us to complete your children's accessories range.  View the whole collection here. 
8203 | Unicorn print aliceband | £1.10 per unit
8184 | Rainbow Hair Clip | £0.68 per unit
8182 | Teddy hair elastics | £0.62 per unit
8193 | Dinosaur hair clips | £0.95 per unit
Wholesale Kidswear - Fashion Accessories
Our best selling kids fashion accessories are our purses, handbags and bracelets. 
Bracelets - Our children's bracelets start at just £0.38 per unit, making them great pick up lines in store.  We have a wide range of different styles such as gummy bracelets, beaded bracelets and charm bracelets.  Pictured  below is our newest style (2993) which is just £0.65 per unit.  See our whole collection here.    
Purses - Our small coin purses always sell well and come in a variety of fun designs featuring unicorns, rainbows and fairies.  We also have a selection of velcro fasten wallets available and zip up purses in stock too.  Pictured below is one of our best selling lines, our rainbow coin purse (7470).  
Bags - Our children's sized bags are great stock ideas for kids clothing stores.  They are perfect for gifts too, and come in a variety of beautiful designs; from floral prints to sparkling rainbows.  Our small kid's sized handbags are our bestsellers, but we also have a range of backpacks and bumbags in stock too.  Try our new fabric drawstring bags which have been selling well.  See the whole collection of bags and purses available here.
8328 | Rainbow handbag | £3.95 per unit | 3 units per pack
8375 | Floral print drawstring bag | £1.89 per unit | 3 units per pack
Accessories Organisers - Brand new for 2021 are our accessories organisers.  Finding the best storage solution for small accessories can be difficult, but our accessory organisers are designed for just that.  Not only are these great sellers and popular with customers of all ages, but they can also be used in stores as an easy and effective way to display a range of accessories.  Small items like hair clips are typically hard to display, but with our accessories holders you can simply attach the accessories to the hanging fabric to showcase your product range to your customers.  They also look really effective in shop window displays.  Order here.   
If you're looking to place an order but aren't quite sure where to start, we have created a Kidswear Bundle which gives retailers the opportunity to try some of our best selling kidswear accessories on an optional display stand.  This is a great way to try different items to sell in a kids clothing store. 
You can order as many packs of each item as you wish, or just try one of each to fill the display stand as pictured below.  We have included our most popular elastics, hair clips, scrunchies, purses, bracelets and headbands and merchandised them together to create a visually appealing display stand.  This spinner stand has a small footprint of just 39cm, so will take up very little room on the shop floor and is ideal for counter tops or display tables.  Find out more about our Kidswear Bundle here.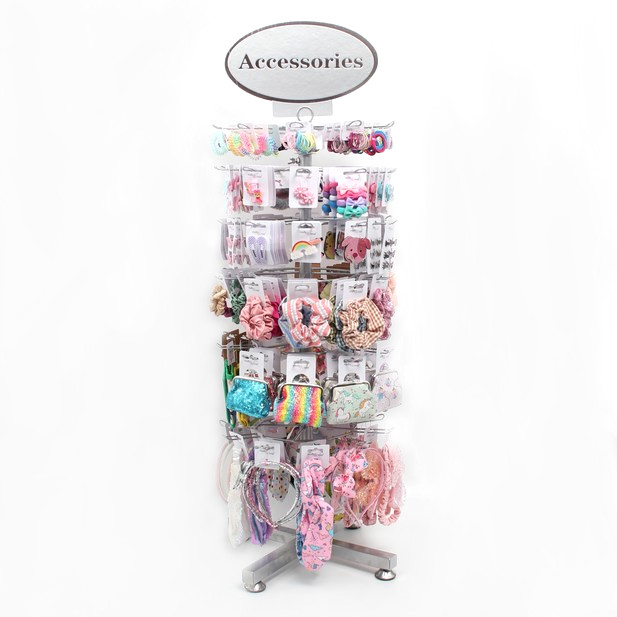 Contact Us
If you would like to discuss ordering a range of wholesale kids stock for your business, please don't hesitate to get in touch and we will be happy to offer our range recommendations based on your individual business type and customer profile. 
Our friendly teams are available to offer any advice or answer any questions you may have.  Contact us by phone, online, or on our social media pages.