Customised Products From Inca UK
If you are looking for a specific product or have a special request, please get in touch and we'll be happy to help if we can.  Over the years we have worked with many customers to create bespoke products and packaging, and we are also able to import special items or even adapt our existing products to your requirements.  
As we are regularly shipping products from the Far East we can arrange for goods to be imported along with our own stock, which can be a big help for many of our customers.  We can also arrange for products or packaging to be sent pretty much anywhere in the world!  
Minimum order quantities may apply for production runs and print runs but we are always available to talk through the options. 
We have outlined only a couple of examples of how we have worked with other businesses in the past, but the possibilities really are endless so please do get in touch if you have something in mind.    
We can source the following…
Bespoke products to your specification

Parts for products 

Variations of our existing products - either hair accessories or gift packaging.

Bulk pack quantities
The products don't necessarily have to be hair accessories or gift packaging - just let us know what you're looking for and we can discuss any options with our agents in the Far East.  
These products can either be unbranded, have your own branding applied or have our Molly & Rose branding.  We can also create new packaging or supply our existing packaging for any bespoke products. 
We are able to arrange imports to the UK along with our stock, but can also deliver products to other factories for further processing or deliver your goods directly to anywhere in the world. 
Example:
In the below picture we had the insert of our existing stock line 1255 adapted to accommodate a product for a customer.  We were able to work with the factory to get the foam insert made exactly to the customer's specification, and then import the stock for the customer in one of our containers.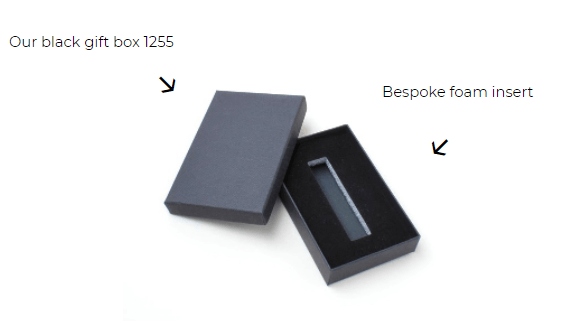 Customer contacted us looking for a specific sized black gift box
        ↓         
We recommended 1255 as the most suitable gift box we had available.  
↓ 
The customer asked if the foam insert could be modified for their particular product.
↓ 
We spoke to the factory and they confirmed that this was possible.  A price was agreed and a sample was sent to the customer for approval.
↓ 
Once approved, the factory made the stock.
↓ 
The stock was shipped in one of our containers.
↓ 
Once the stock arrived with us and was quality checked, it was then sent out to the customer.  
Click the title above for full information... 
Any of our existing products or specially sourced bespoke products can be branded with...
No branding

Your branding

Our Molly & Rose branding
We can create or source special packaging to be printed, or supply our existing packaging with or without branding.   We can also arrange for the packaging or display cards to be delivered to another location of your choice with or without products, as needed.
If you would like to create your own brand and require some assistance with the artwork, please contact us and we may be able to assist.    
Please don't hesitate to contact us for any further information.