When will we dispatch your order?
We aim to dispatch orders placed before 12pm on the same for orders in the UK. (This may be slightly longer during busy times)
For extremely large orders or orders where weights and dimensions are needed it will take us a little longer to organise for you.
What courier services do we use to deliver?
We use DPD for all UK deliveries and most of our European ones too. 
For UK based orders DPD allows us to get your parcels to you the following day offering one of the best next day services. 
All Scottish Highland and Irish deliveries arrive on a two day service. 
Mainland Europe deliveries depend on your location as to what service we use. This could be DPD or UPS. 
How to track your order?
DPD will email or text you on the morning of your delivery with a one hour delivery timeslot. 
(To recieve text messages, please supply your mobile number in your account. )
If you have a smart phone or tablet you can now download the DPD app. This allows you to manage your deliveries at the touch of a button. Click the image below to go straight to the webiste.
What are the delivery charges?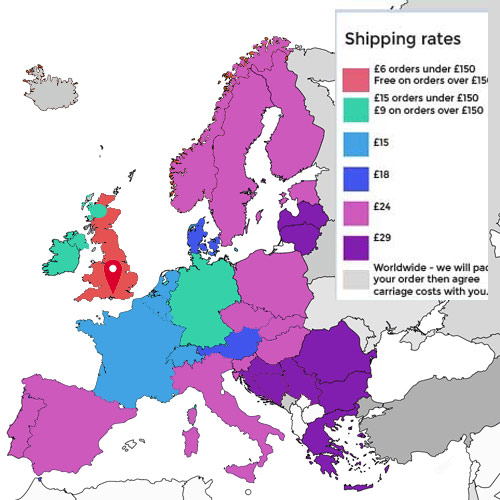 Rest of the World Delivery
All orders placed in countries out of the European Union. 
We will pack your order and advise the best option and price for your delivery. We use a courier comparison to make sure you get the most competitive rate possible.
Our minimum order for these countries is higher at £150. 
What happens after Brexit?
As of the 1st of January 2021, the UK has officially left the EU.  For our UK customers there will be no changes.  For our EU customers, we have outlined below exactly what the new trade agreement means when ordering with us.
The great news is that there will not be any major changes, and we look forward to continuing our working relationship with all of our EU customers.  We hope that you find the below information useful to clarify the changes that are happening...
14.01.2021   FOR ALL EU CUSTOMERS PLEASE GET IN TOUCH BEFORE PLACING YOUR ORDER.
VAT 
VAT is the tax paid to the government of the country where the goods are being imported. 
VAT is the tax paid to the government of the country where the goods are being imported. 

As we are a UK based supplier, when you place an order with us and import goods into your country there may be VAT to pay to your own government.  

If you are a VAT registered business, you will be able to claim back the VAT that you have paid in your country as you currently do on other goods.

Until further notice, when your order reaches customs in your country, DPD will email you with an invoice of the relevant VAT that you need to pay in your country in order to receive your order. Your parcel will not be released from customs until the VAT is paid.  This amount will vary per country depending upon the VAT rates in each country.

For the long term, we are working on a way that the VAT can be paid through our website by selecting the country that you are importing to and applying the relevant VAT amount.  This will mean that the VAT can be paid directly by us through our DPD account so that your parcel can be sent to you as quickly as possible and without DPD having to email you an invoice to pay.  We will of course keep you updated when this is up and running.
Customs Duty / Tax 
Customs duty / tax, is different to VAT, and is the tax paid on imported goods based upon their commodity code classification.
As our goods are not produced in the UK, our government is advising that we list the country of origin as China. Even though we have paid Duty to import the goods into the UK, as we are not part of the EU we are having to pay import duty on goods entering any EU countries. 

Currently this duty is payable by the customer receiving the goods, however, we are working to change this.
Lead Times
Our couriers  have informed us that there may be delays on delivery times due to checks at the borders and the VAT having to be paid before the goods can be released from customs.
When ordering from the EU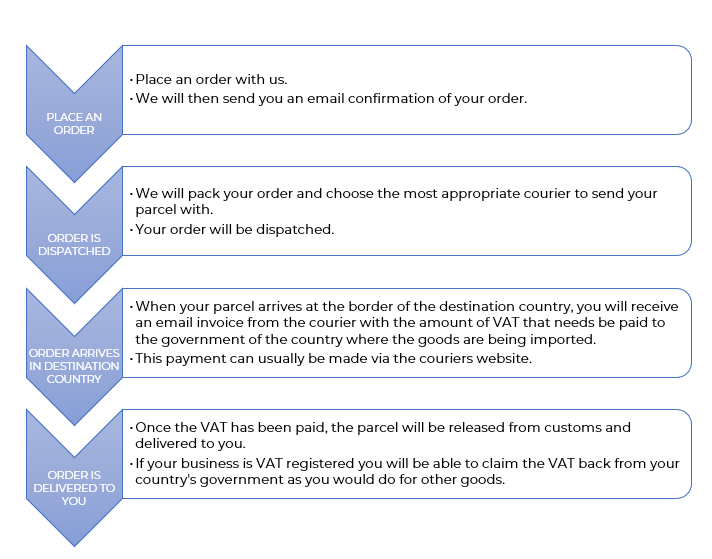 Please Note: Orders shipped outside of the UK may be subject to local taxes and import duties. These are applied when the shipment reaches your country. Inca Jewellery Ltd cannot accept responsibility for any charges which are applied when the parcel leaves the UK. Customs procedures vary from country to country and we suggest that you contact your local customs office for further information. 
Goods which are being shipped between countries may be delayed or inspected by customs authorities.    We have no control over these situations and can therefore not accept any liability for any unforeseen consequences.