Top 5
Wholesale Ring Boxes From Inca UK.
If you're looking to
buy gift boxes for rings
take a look at our top 5 recommendations to suit rings of all shapes and sizes…
1.  0850 -
Black
Velvet Ring Box
Number one has to be our classic black velvet ring boxes.  This timeless style never goes out of fashion and compliments any ring style.  The hinge closure allows the lid to remain upright and so they make great gift boxes to use for the display of rings.  These wholesale ring boxes are particularly popular with our retail customers, and are most often purchased as ring boxes for engagement rings or display ring boxes for antique jewellery stores.  These wholesale black velvet ring boxes have a matching black foam insert with a H shape slot where a ring can be displayed and secured.  We also have this style available in red velvet for a more striking look.  The red ring box version sells well for Valentine's Day and Christmas.    
2.  0180 - Brown Kraft
Paper
Ring Box 
Second choice is our natural kraft wholesale ring boxes.  This box is slightly larger and therefore suits larger rings and costume jewelry rings.  The kraft coloured paper works well with all metal and gem colours and gives a more natural feel.  This ring box is ordered in bulk by jewellery makers and crafters looking for ring boxes for their makes, as the kraft paper allows them to personalise the ring box with their business name or logo.  This can be done by printing or even more simply by adding custom stickers to the ring box.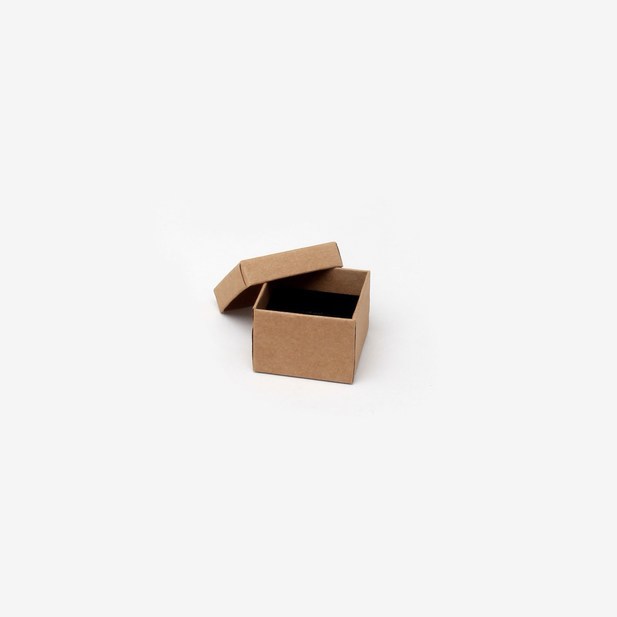 3.  1137 - Dove Grey Ring Box
In third place is our brand new dove grey ring box.  The soft grey colour of this ring box has a contemporary feel but still works well with the traditional metal colours gold and silver, as well as more modern rose gold colours.  The box is made from paper covered cardboard, and has a cardboard insert instead of a foam pad which adds to the overall style.  This new eco friendly ring box is fully recyclable and has the added advantage of a hinge closure which means the lid can remain upright for easy display of the ring inside.
4.  0203 - White Ring Box
In fourth place are our white wholesale ring boxes .  This is one of our small ring boxes and measures 5cm x 5cm x 2.2cm which makes it suitable for posting as a UK Royal Mail Large Letter as long as the outer packaging does not make the total depth of the parcel measure above 2.5cm.  For this reason we are ring box suppliers to many online retailers through platforms such as Amazon, Ebay and Etsy, where the sellers are looking to order ring boxes in bulk that can be posted with ease and for as cheap as possible.  Our white ring boxes have a slight textured finish to the paper which adds an air of quality and sophistication.  It also contains a matching white flocked foam insert to hold the ring, but this can be removed from the ring boxes if needed.     
5.  1545 - Rose Gold Glitter Ring Box
In 5th place are our rose gold glitter ring boxes wholesale.  Anything rose gold has quickly become a fashionable and all year round strong seller.  The glitter finish has a subtle sparkle and real shelf appeal.  For this reason, our rose gold ring box is popular with our retail and wholesale customers who are looking to catch their customers eye.  This ring box has a fully removable lid and a black velvet foam pad insert to hold and display the ring inside.