Our
Eco Friendly Packaging Ideas
...
Here at Inca UK we're keen to minimise our impact on the environment which is why we are introducing more and more
sustainable packaging supplies
into our wholesale packaging range.  With an increasing demand from consumers for more
eco friendly packaging options,
we hope we can inspire more  businesses to consider
buying wholesale sustainable packaging supplies. 
Plain paper gift bags with no special finishes or additions such as glitter are fully recyclable gift bags.  Not only can these gift bags be reused and passed on to other people, but they can also be fully recycled and are compostable and biodegradable.  Many retail stores are looking to buy environmentally friendly paper carrier bag supplies to avoid plastic bag charges in their stores.  Take a look at our paper gift bag collection here, where you'll find a wide range of colours and sizes available; kraft, white, silver, red, cream and even some printed designs.             
Fabric gift bags are fast becoming a bestseller as consumers move away from disposable options.  Although paper gift bags can be recycled, fabric gift bags stand the test of time and can be reused in many different ways.  We stock a variety of fabric drawstring gift bags in different materials such as 100% cotton, cotton/ polyester mix, jute effect, organza and velvet.  All of these materials are long lasting and can be reused time and time again making them very sustainable gift bags.  You can also rest assured that if you're not planning on reusing our 100% cotton bags, they will fully biodegrade in approximately 6 months.  We have sizes available for jewellery, accessories, cosmetics, make up, candles and even wine bottles.  
For the ultimate wholesale environmentally friendly gift boxes, try our 100% cardboard gift boxes.  These gift boxes have no insert (or a cardboard insert) which means that every element of these gift boxes can be fully recycled or will eventually breakdown as they are compostable and biodegradable.  We have recyclable gift boxes designed especially for jewellery and soap, although they are suitable for any item which can fit inside.   
If you're an online retailer looking for eco friendly packaging materials, we have fully recyclable postal packaging available too.  We have brown paper mailing bags in stock and boxes made from 100% cardboard.  Both of these items are fully recyclable and biodegradable, and make great eco friendly packaging supplies.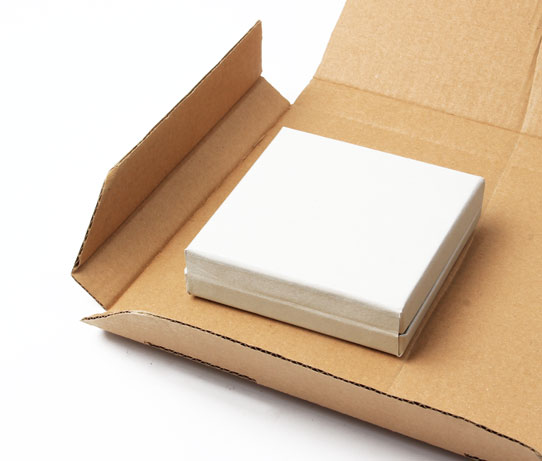 A brand new addition to our wholesale packaging range are our compostable bags.  These bags are made from 100% cornstarch and have the same look and feel as plastic, but are fully biodegradable bags.  Suitable for small items, these wholesale eco friendly bags are lightweight and have the same protective properties as plastic, but unlike plastic they will eventually disappear and leave no trace that they ever existed.