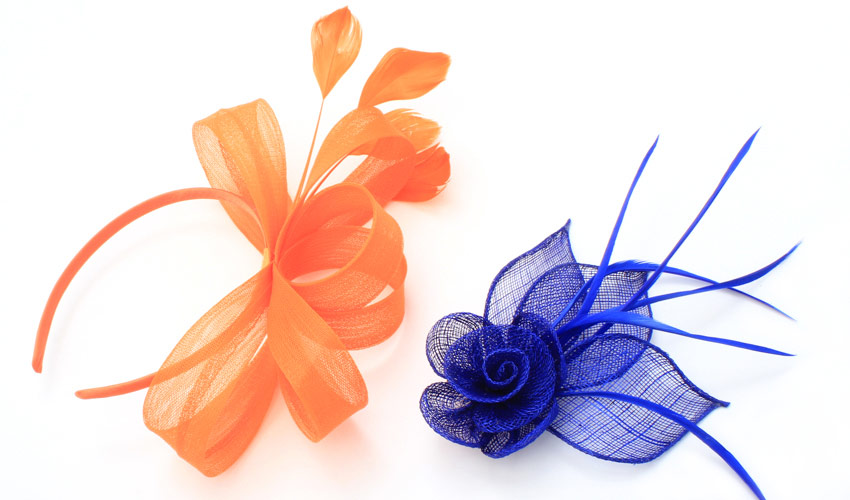 Before you buy a fascinator for that upcoming wedding or day at the races, consider making your own. You're unlikely to find a store-bought fascinator that suits your style as well as any you could design yourself. 
There's a sense of satisfaction in making something, and it's not as hard as you might think. In this blog, we look at how to make a fascinator. Whether you're a dab hand at millinery or a complete beginner, this is something anyone can do.  
What is a fascinator? 
A fascinator is a decorative headpiece typically worn at formal occasions such as weddings, race days, and other special events. 
Made famous by Royal Ascot's fashionable following, fascinators come in various sizes and colours to suit the style of the wearer. They are incredibly versatile, from small and understated designs to larger, more extravagant pieces. 
What materials do you need to make a fascinator? 
To make your fascinator, you will need: 
- A base disc 

- A plain headband or

plastic hair comb

  

- Needle and thread 

- Feathers, ribbon, and other accessories 

- Dressmaking pins 

- Material (crinoline and/or sinamay are ideal) 
- Crinoline and sinamay are two of the most popular materials for hat-making.
Crinoline, or 'crin', is a type of synthetic netting that comes in various sizes and colours. Crin doesn't fray, which makes it perfect for DIY fascinators. 
Sinamay is a straw fabric comprised of abaca fibre – a natural plant extract. An ideal material for hat-making, sinamay is lightweight, pliable, and tough.  
Make your own fascinator step-by-step
Before you start making your fascinator, research what's already out there. Do you want big, small, elaborate or refined? When you see something you like, save a picture of it to use later.
Keep in mind the outfit you'll be wearing with your fascinator. This is a good place to start, and you can use it as a jumping-off point for selecting colours. 
Step 1: Start with the base disc 
A base disc is a circular piece of material that acts as the foundation for all the other bits and pieces you'll add to your fascinator later. You can make your own or buy one. 
Step 2: Add your fabric 
This step is where you start to build up the structure of your fascinator by using folds of material (crinoline is ideal for this job).
Stitch each fold of fabric individually, then sew or pin it to the base disc. You might also want to add loops of ribbon at this point. Slowly build out the loops of material, thinking about the overall shape of your fascinator as you're going. 
Step 3: Attach feathers and flowers  
Next, attach a spray of feathers or flowers (or both) to your fascinator using hot glue. This will give your fascinator height. Remember to keep within the colour scheme of the overall headpiece. 
Step 4: Add the final touches 
Add the final embellishments to your fascinator using glue or thread, whichever is most appropriate. It might be beads, sequins, or jewels. 
The great thing about making your own fascinator is that anything goes, so you can use up whatever odds and ends are left over in your craft box! 
Step 5: Put it all together 
When it comes to putting the whole thing together, you can either: 
a) Glue the base disc to a plain headband
b) Sew a hair comb inside the disc 
Some people prefer a hairband because it feels more secure, especially if you have very thin hair and find it difficult to stop a comb from sliding out.
Your questions on DIY fascinators
Let's dive into some of your frequently asked questions on DIY fascinators. 
Are fascinators easy to make? 
Making your own fascinator is relatively straightforward. With the right fascinator parts and a bit of creative flair, you can make a headpiece to rival some of the most elaborate at Royal Ascot. 
What materials do I need to make a fascinator? 
You'll need a base disc and a headband or a hair comb to make your own fascinator. Plus, some hot glue and/or needle and thread. 
You'll also need fabric (crinoline is ideal) along with ribbon, feathers, flowers, and sequins or gems for the decoration. As long as they fit your colour scheme, this is a great opportunity to use up those odds and ends left over from other DIY projects. 
Do you hide the band on a fascinator? 
Where a fascinator is attached to a headband, most of the band is hidden under the hair so it won't be seen. 
The band is usually the same colour as the rest of the headpiece to create one seamless piece. If it is a different colour, you can cover it with material to match the rest of the fascinator.  
How do you wear a fascinator? 
Wearing a fascinator involves securing it to your hair in a way that complements your hairstyle and overall look. 
- For headbands: Slide the headband into your hair so that it sits comfortably and securely. Position the most decorative part of your fascinator so it sits just off-centre. 

 

- For hair combs: Insert the comb into your hair in your preferred place, ensuring it grips firmly. Your hairstyle will determine the best place to wear the fascinator.  
Making a fascinator – the key takeaway 
You don't need to be a sewing superstar to make your own fascinator. With your materials in hand, all it takes is patience and a touch of creativity to succeed.
The main challenge is deciding where to begin. Doing some research before diving in is a smart move. If you already have a vision of what you want to make, you're just a few steps away from bringing it to life.