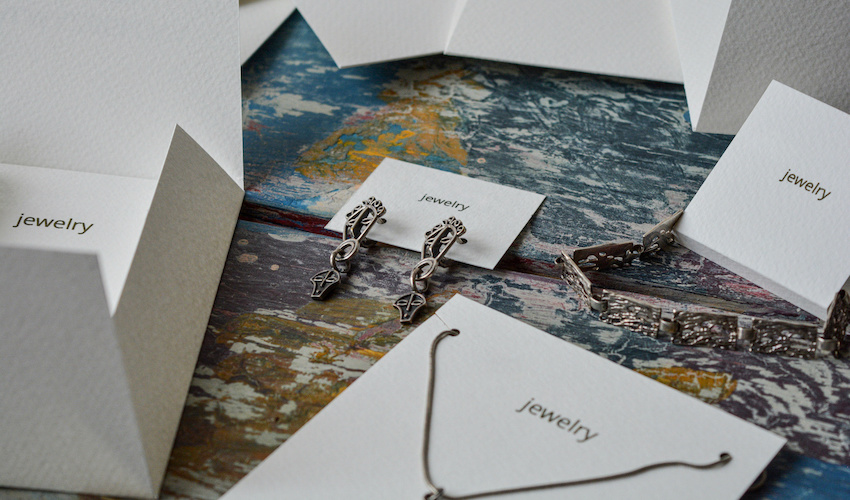 People buy jewellery for lots of reasons, from marking a special occasion like a milestone birthday to a wedding or anniversary. It's typically bought as a gift for someone else, so it makes sense to package it with this in mind.
Though boxes are traditionally used for packaging jewellery, more and more retailers are choosing to use fabric gift bags instead. In this blog post, we'll outline some of the benefits of using velvet jewellery pouches. 
Choosing your jewellery packaging  
Before you decide on the packaging for your jewellery, consider these things. 
- The type of jewellery you sell – costume or gemstone. 

- How the jewellery arrives at your store - is it on cardstock, in plastic bags etc.?

- Do you sell online only or from a physical store?

- How the jewellery is displayed in the store or on your website.

- Your brand and how you want customers to perceive your products.

- The budget for packaging.

- How you package items for sale and for shipping to customers.

- Storage space for packaging materials.
Gathering this information upfront will help you choose fit-for-purpose packaging. A high-end jeweller, for example, will likely use a very different type of packaging than a B2B online retailer shipping costume jewellery in bulk.
The benefits of jewellery gift bags
There are many advantages to choosing drawstring bags over boxes, but perhaps the most obvious is how easy they are to store, so let's start with that first. 
1. Storing your packaging
Velvet pouches and jewellery bags take up far less room in the storeroom. They are compact and can be stored flat.

Velvet bags protect the items inside, so you won't need as much filler material for shipping your products – one less thing to keep in stock! And because they're flatter, you can post your jewellery pouches inside padded envelopes rather than boxes, which should save you money on shipping. 
Bags and pouches are versatile enough to accommodate all the different ways jewellery items arrive in your shop. If your jewellery comes on card stock, you'll need lots of boxes to match the different sizes. 
2. Protection from damage
If you work with jewellery, you'll know that moisture and sunlight can damage these items. 
Moisture is one of the prime causes of discolouration, and exposure to sunlight can damage silver by accelerating the tarnishing process. Over time, this exposure can lead to silver developing an unattractive patina that makes it look darker.

Although not common, direct sunlight can also discolour certain gemstones.
- Amethyst, topaz, rose quartz, and kunzite can fade. 

- The oil within emeralds, rubies and sapphires can dry out.

- Opals and pearls can dry and crack.
Costume jewellery isn't immune from the effects of the sun either because it can bleach certain natural elements like wood, dry out plastics, and melt glue, leading to deterioration. 
Velvet jewellery bags offer protection against the effects of the sun, and the soft pile of the fabric absorbs moisture, so it doesn't stay sitting on the jewellery item. 
Inca's velvet jewellery pouches have drawstring closures, so there is no chance of the item falling out or going missing.
3. Versatility 
Jewellery gift bags have several different uses. They can be used in-store to package items or ship products bought online.  
Bags are an effective alternative to shipping items on cardstock, plastic bags, or boxes, especially for multiple items which can be bulky. 
It is possible to use both a bag and a box together. A jewellery pouch can heighten the sense of surprise and anticipation because there is another layer to unwrap to reveal the jewellery item inside (more on this later).
4. Customer appeal
A simple velvet pouch can elevate the jewellery contained within it – perfect for luxury brands. 
The dark rich colour of black velvet highlights precious, semi-precious or crystal stones and provides the perfect backdrop for gold and silver settings. 
Customers associate black velvet jewellery pouches with luxury and elegance. They also appreciate the versatility of a jewellery bag, which will fit neatly inside their jewellery box at home. 
Alternatively, suppose the item is intended to be given as a gift by your customer; in that case, it will look beautifully finished in its jewellery pouch without having to do anything else – no wrapping required!  
The bag can also be reused for further gifting or storage, which will appeal to environmentally conscious customers.
Black velvet jewellery bags are great for taking jewellery on holiday. They are easy to pack into a handbag, carry-on bag, or suitcase, keep items clean and polished, and offer protection against sun and moisture damage.
The bottom line on jewellery gift bags
Velvet pouches or jewellery gift bags are an excellent choice for packaging and gifting jewellery items and offer a practical alternative to boxes.  
Not only does the soft texture cushions items, protecting them from scratching and tarnishing, but the pile of fabric absorbs moisture and protects the items inside from sunlight. 
They can be printed with your business's name or logo to ensure that your brand stays at the forefront of customers' minds.
As a more sustainable and cheaper alternative to boxes, velvet pouches are practical as well as functional and stylish. 
They can also be used alongside boxes for more expensive or exclusive pieces or to add that touch of glamour and luxury to your jewellery brand without costing the earth.