Bespoke packaging solutions
We are very excited to announce that we are now the proud owners of a hot foil printing machine here at Inca UK!  We often get asked by our customers if we can provide custom packaging boxes with a logo or design on them, and if it is possible to print onto our plain gift boxes.  Up until now this is not something that we have been able to do, but the time is now right and we are able to provide branded packaging boxes for any business.   
Are bespoke boxes worth it? 
We believe that bespoke retail packaging adds a professional look to any product type.   Custom packaging for products can help your business stand out against competitors as any branded labels or packaging are more likely to be remembered by your customers.  Custom packaging design helps to create brand awareness and can ultimately drive sales if customers feel connected to your brand or business. 
How is hot foil printing done?
Hot foil printing is done by a hot foil printing machine, and is the permanent transfer of a foil onto a surface using a heat stamp.   This is our hot foil printing machine…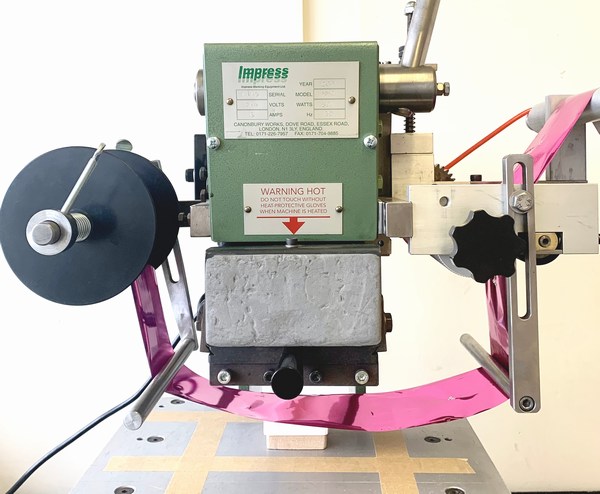 1.  Once we have received your artwork, we make a metal print plate which is used as the die to create the print.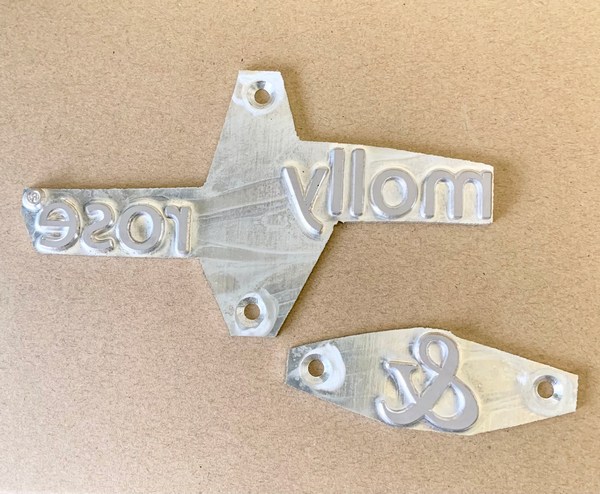 2.  The chosen foil colour is fed between the die and the item that is to be printed.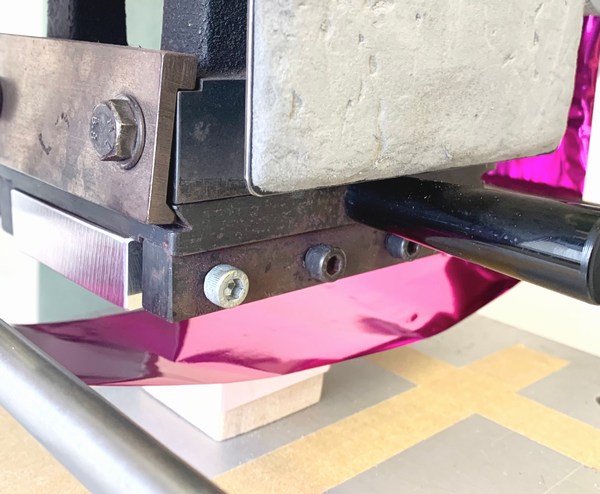 3.  Pressure and heat is then applied to bond the foil permanently to the item.
Foil printing is typically used to create luxury brand packaging, although it is surprisingly affordable, and our low minimum order quantities of just 12 boxes means we can supply branded packaging for small businesses as well as larger operations.  
Custom packaging suppliers
We are currently able to print onto most of our paper gift boxes, however the foil colour, design and box texture needs to be tested to make sure that it is possible.  If you would like to discover the options available, please contact us on 01509 501000 or email  bespoke@incauk.com and we will be happy to discuss your requirements.
What is the minimum order?
Just 12 boxes is the minimum order for printing, and our minimum order value of £25 also applies.  
For all printing jobs  there are 3 costs;   
The cost of the boxes 

The cost of the print plate set up (which the customer then owns) 

The printing cost itself.  
There are also any delivery charges if applicable.  
Please note that the costs do vary depending on the type of design being printed and the size of the boxes being printed on to.  Please contact us to discuss your specific requirements.  
Can I provide my own boxes?
Currently we are only able to print onto our paper gift boxes.  You can see the full range here.  This may change in the future, but to begin with we want to ensure we can provide the best quality printing.
Our lead times vary depending on the time of the year and the size of the order.  We will always discuss this with you at the time.